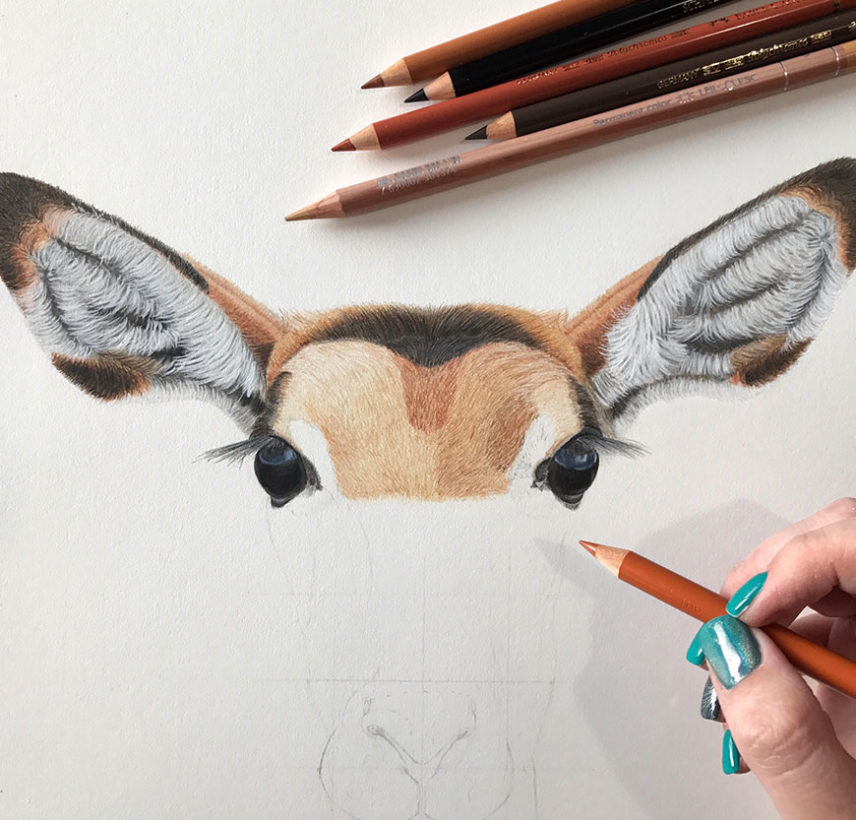 Coloured Pencil Joy – 5 Reasons to try Coloured Pencils as Art Medium
By Henriette van Staden - August 20, 2018
It's difficult not to imagine the start of a school year without the mandatory new set of colour pencils – I remember so vividly how beautiful I thought the perfectly colour-arranged packets were – the barrels shiny, the lid marked where the sharp points stained it so alluringly.
Despite my obvious love for coloured pencils, I would admit that it was not a medium that crossed my mind as the obvious go-to to create art.  Somehow, in my young mind, painting was synonymous with art – the colourful impressionist Van Gogh, arresting portraits by Renoir and the iconic Mona Lisa.
Where it all began
The first coloured pencils manufactured for the purpose of creating art were produced by Faber-Castell and Caran d'Ache in 1924 – it is therefore no surprise that these pioneering companies are still leading coloured pencil manufacturers producing sought-after sets of the highest quality.
So what do they know that we don't?  Why is it worth spending almost a century developing these simple instruments?
Firstly – as we all discovered in school – anyone can manage with a pencil.  They aren't messy, there is no tip or trick – simply apply to paper and draw!  Techniques are really easy to master, most pencils can be erased and even the paper does not necessarily need to be expensive.
Further to that pencils are really versatile.  Walk into just about any art store and you are sure to be bowled over by the variety of different pencil sets on offer.  Aside from the more traditional wax- and oil-based pencils, there is now also an array of pastel, ink-based and watercolour pencils.  Sets range from specialised smaller sets for skin tones or landscapes to large 120 colour sets in some brands.  Some are made specifically to achieve fine detail, others to enable shading of larger areas. They can be blended, layered, painted, coloured with – imagine it and I can guarantee there is a pencil that is fit for the job.
Thirdly they are just so convenient to take wherever you go.  Most pencils come in cases designed to protect them for travel, and should you find yourself on a beach or mountaintop with inspiration knocking, you simply need your lap, and paper and you will be ready to create your masterpiece.  You might become quite the pencil-addict like me and not able to decide which set to take, but isn't that just the happiest of problems?
Pencils & Mediums
Pencils also play so well with other mediums – one can combine them with watercolour or pastels for detail or use them alongside ink or markers.  They truly are a handy addition to your art-supply drawer irrespective of your preference.
Lastly, pencils are now being produced with high lightfastness ratings meaning that your artwork can truly last a lifetime.  Lightfastness measures the longevity of the pigment when exposed to light – even watercolours and oil paints are rated and artist-quality pencils can now happily compete with their age-old counterparts.  With the wide variety of paper available to artists, it does really offer unlimited opportunities to be creative.
Maybe my love for coloured pencils grew from the joy of opening those first sets as a child or maybe it is a medium that just found me by chance, but I can honestly say that as an adult I am now delighting in creating art with them.  I still get excited when I open a package of pencils and I still marvel at the simplicity with which one can create using this versatile medium. It is indeed a medium worth trying.
---
The Pencil Nerd – Henriëtte van Staden
Aside from fostering a financially-unhealthy pencil fascination, Henriëtte also loves all things feathered and furry and enjoys the challenge of capturing the minute details of animal-life in pencil and pastels. She is also a mom of two boys, laughaholic, dreamer and amateur beekeeper.
Instagram: @thecountrycreative