Watercolour made Simple Course – Click here to view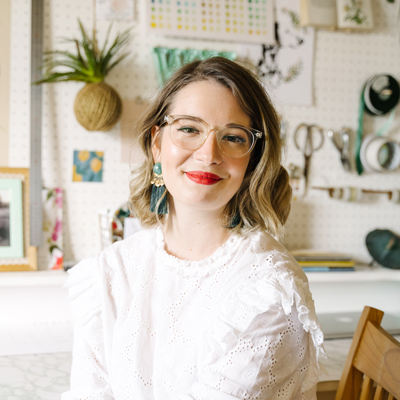 BIO
Jess is the illustrator and designer behind Watercolour heart and, "Making every moment a celebration of life and creativity", is a tagline she aims to live by. Jess lives for special moments and creating, as a result, her business is the product of both passions.
With an honours degree in Fine Art, Jess combines hand-drawn illustration and skills in digital design to work closely with clients creating all of the intricate and thoughtful details that make a design unique. Jess endorses creativity not just as an activity but as a lifestyle and aims to teach not only technical skills in watercolour illustration but also how to approach creativity with self-confidence and an everyday application.
---
Paint: Cotman Water Colours Brush Pen Set – Winsor & Newton
The Cotman Water Colours brush pen set is designed specifically for use when you're outside of the studio. Inside, you'll find 12 vibrant Cotman colours and a brush pen.
The 12, high-quality Cotman watercolours are made from the purest pigments.
The brush pen was developed especially for the pocket-sized Cotman set, so it feels just right in the hand. An ergonomically designed brush with a water reservoir and a precision, synthetic tip. The load, spring and point of the beautifully fine synthetic tip give you all the feeling, control and line versatility of a traditional brush. The tactile bobble grip makes it easy to squeeze and control the flow of water to the brush tip when you need it. Because it has its water source built-in, there are no containers to carry around. And thanks to its transparent design the water level is always visible.
All packed into a slim, beautifully curved case that fits in your pocket with a mixing palette inside the lid. The Cotman brush pen set allows you to capture moments of inspiration no matter where you are. Add splashes of vibrant colour to your work with all the precision and control of your favourite brush. No mess, no fuss.
Brush: KUM Memory Point Brushes
The combination of highly skilled labour with the use of only the finest material available ensure the high quality, durability and unique characteristics of the KUM® Brushes. Superb craftsmanship ensures that the Memory Point brushes developed by Kum, Germany, with its unique synthetic fibres surpass conventional brushes in many ways:
The brush tip is always perfectly formed
The exceptionally elastic fibres provide outstanding shape retention characteristics
The possibility to paint the finest details with all brush sizes
Optimal colour absorption, storage capacity and release characteristics
These short, smooth, round handled Memory Point brushes are perfect to use with watercolours, gouache and acrylic media and are well suited to use on canvas, paper, glass and silk.
Handmade in Germany, these unique brushes impress with the quality, versatility and value they provide.
The Memory Point brushes are available in different sizes, as well as four unique shapes: the Flat; the Round-Pointed; the Cat-Tongue and the Flat-Slanted.
Paper: Harmony Watercolour Blocks – Hahnemühle
Harmony Watercolour – A natural-white paper for all wet-painting techniques. Harmony Watercolour features surface sizing. Colours stand out excellently on the paper and impress with their natural brilliance, thus giving every subject it's very own unique presence. Masking fluids or masking tape can be used and removed residue-free. While wet colours can be easily corrected or taken off.
Harmony Watercolour is acid-free, light-resistant and features extreme longevity. And all are eraser resistant due to the surface sizing. Each block contains 12 sheets.
Palette: 10 Well Plastic Palette
Suitable for all acrylic and water-based paints and mediums