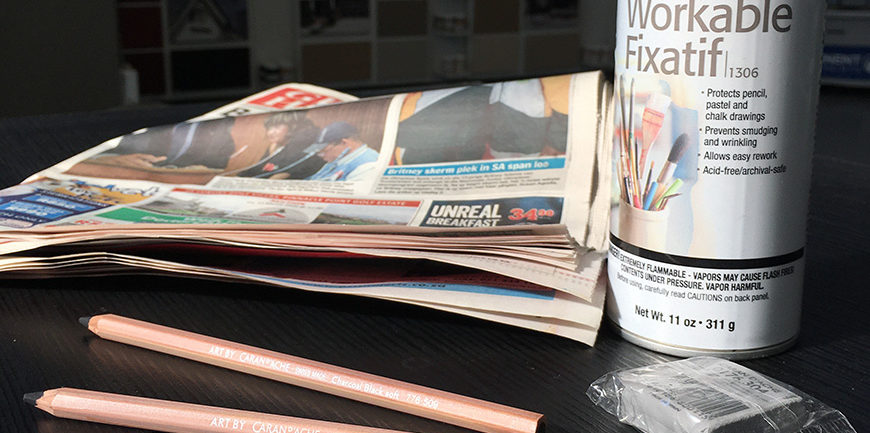 What surprises lurk in your art supplies?
By Art Savings Club - May 19, 2020
Imagine the following scenario with me if you would.
Standing in your favourite art store, item in hand thinking, "I'd love to try this." That impulse kicks in and the words echo in your heart, "Sold!!! I'm taking this…"
Fast forward two years later and by some random chance you discover the aforementioned purchase and think, "Oh snap! I remember this."
Let's be honest here, I'm sure it's happened to you and if it hasn't, I'm relatively sure it will!
We creatives have an uncanny ability to let our curiosity get the better of us for the most part. But sometimes life wins and artistic experimentation takes a back-seat till we rediscover the thing that got the juices flowing in the spur of the moment so many moons ago.
Some time ago I found myself in this exact predicament. I was rummaging through one of my art boxes and discovered a couple of charcoal pencils. Un-used, brand new and in perfect condition just laying there and winking at me. The world vanished…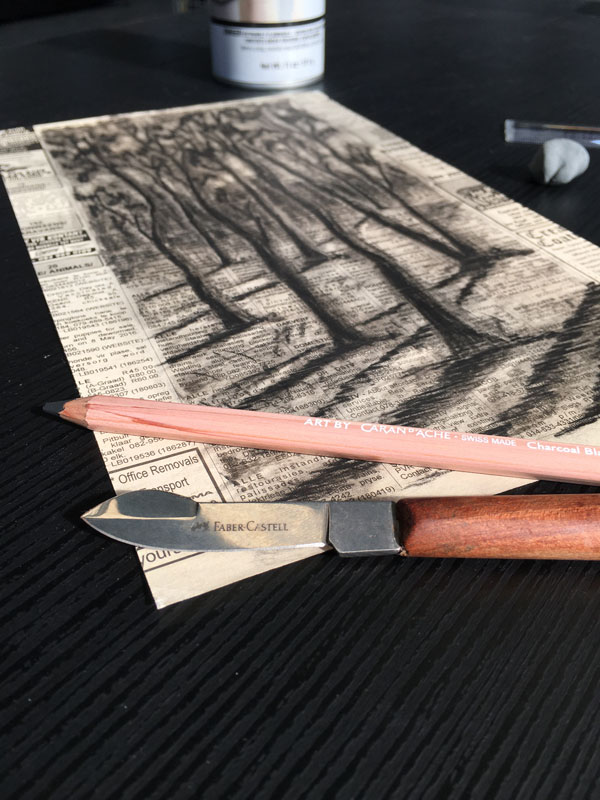 The lights turned on, the rocket was primed and poised to be lit. Ideas came flooding in at a dizzying pace only to discover while frantically searching for a support to embellish with these deeply dark and luscious beauties, that I did not have suitable paper.
One's heart sinks into some desperate place in moments like these. The entire universe was aligned for a split second only to have the carpet ripped out from under your feet. In that very moment, weightless and suspended between elation and despair, one has a choice to make. Sink or swim?
Out of pure frustration, I just started to scratch out the outlines of my water jar on the newspaper covering my art table, but at that moment it dawned on me – charcoal and the classifieds were made for each other!
Finding the biggest area without colour or borders that only featured monotonous shortly worded advertising, I scratched out a quick forest sketch from imagination(This rarely happens, I'm a reference dependant kind of artist…).
Adding shadow and employing my trusty kneadable eraser to lift out highlights – while carefully considering light direction –  before long, voila! A Master Piece!
Now when something you've created on the spur of the moment turns out this well by your standards, you want to preserve it as fast as possible. Out came the fixative and a couple of careful layers later the newspaper had become transparent with the words and images on the reverse side of the paper showing through and all was undone again. The effect was seemingly ruined.
I will admit, some choice and very powerful words started to well up in this passionately creative heart, (but common sense and some better judgment bestowed from above overruled) and a wait-and-see attitude was adopted.
All's well that ends well and when the fixative had dried I stood with a scribbling in hand that I felt distinctly proud of with plans to frame and brag about and maybe even sell for the millions I felt it was deserved of!
Life once again happened, time passed and looking at the charcoal sketch now, I'm glad I hadn't framed it yet. I didn't take into consideration that newspaper yellows over time and I would have gotten the mount-colour wrong which wouldn't be complementary and would cost a re-frame and worse, a disappointed millionaire customer…
Wonderful story Ash but what's the point to this whole lot?
In this time many of us have found ourselves with time on our hands. We have most likely caught up on old projects, braved new ones and walked a permanent pathway into the floor that leads to the refrigerator. But somewhere in the chaos we call our art supplies, a surprise lies waiting and I hope this will inspire you to go find it and play. Discover something new and have fun. After all, that's what making time for your passion is all about.
Ps: A side note if you happened to find some Caran d'Ache items laying around and are wondering what to do with them-Artsavingsclub and Caran d'Ache have a jam-packed down-loadable E-book ready for you for as long as this lockdown lasts,  absolutely free.
Even if you don't have any Caran d'Ache products to play with- grab it anyway-it's well worth the read both for inspiration and to whet the appetite while considering your next purchase.
Here's the link: https://artsavingsclub.co.za/product/workshop-book-english-version-caran-dache/
---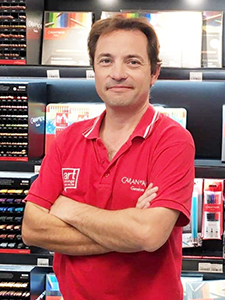 Ashley Coetzee
As our very own creativity consultant living in the picturesque city of George, Ashley embraces all things artistically inclined. He has a special place for line-and-wash watercolour works and oil paintings. A creative soul at heart he jumps at the opportunity to engage in any conversation around the topic of art, it's principles, or different mediums.
Instagram: @artfromtheashgrove