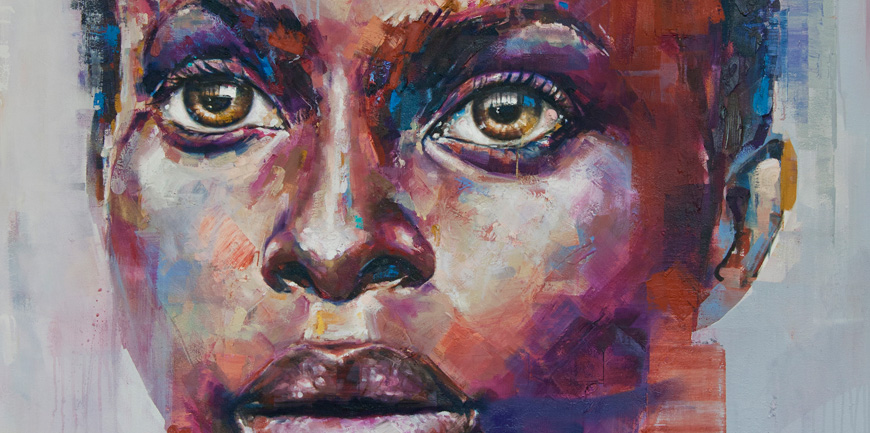 I find other artists and their stories very insightful and inspiring and I was therefore very excited when contemporary portrait artist Chaz Williams agreed to answer a few questions. I think his predominantly oil portraiture work is fascinating and have been following him on Instagram for quite a while. The arty Capetonian started taking his art a little more seriously when a 'little Mandela sketch' he did, ended up selling for more than expected after a local portrait competition. He is very involved with charity and regularly auctions off artwork in favour of various charities.
1. Tell us about Chaz – did you study art? Are you originally from Cape Town? Just a bit of background on yourself.
Yes, I studied fine arts at a young age but then I went more into art direction and design, I ended up studying both of those including old school photography darkroom development.
I think the design and the art direction really helped me with the discipline needed to be a professional artist and the B&W photography was, in hindsight, a beautiful way of learning tones relative to colours.
2. We are obviously just a little in love with art supplies – tell us about your chosen medium and can't-live-without art supplies.
HAHA!! Art supplies and art supply shopping has only VERY recently become an interest for me. I would always go in, get what I needed and rush back to my studio. Nowadays I try all the fancy mediums and brushes especially. I am finding that some brush heads or brush lengths are just way more fun to use than others. I obsess over looking for the perfect scraper. It doesn't seem to exist. That is why I still literally cut them out of ice-cream tub lids.
3. You do such striking and thought-provoking portraits – what inspires you? Why the human face?
Good question, I feel, personally that art is the most powerful, emotive form of creation there is. I feel that art can create emotion like no other and I feel that too many artists are creating art which is "fun" or "pretty". I use large canvases with thick paints to evoke a response which is powerful and meaningful. Connecting with people through portraits and subtle, complex facial expressions is as powerful as it gets.
4. I also see that you do a lot of charity work – which charities do you support? Why did you get involved in this type of work?
Yes, from the beginning of my career I have been passionate about charity, for no other reason than just to try and help out. The cost of sales of one of my pieces is so low relative to the expense of purchasing a piece of my work, because of this I just figured I could really make a difference. I am super proud of the fact that I have raised over a million Rand in the last 5 years.
5. Tell me an arty secret – I sometimes think people see artists as very stereotypical struggling individuals – let's break the mould!
Yes, I definitely think the financial struggle is a myth. If you work at your art, push yourself and market yourself correctly, you can be extremely successful. However, the struggle in the mind is the one that gets you. Art is such a mental game… One moment you are thinking you can paint any subject in any style, the next moment I can completely understand why Vincent cut his own ear off.
Is there anything else you'd like to share? Any workshops or exhibitions coming up?
Yes, I will be doing a solo exhibition at the end of this year through Red Gallery. I will be putting up 15 pieces, hopefully. It will include my classic look as well as a brand new style I'm working on. Should be pretty cool. Otherwise, follow me on Instagram!
Thank you Chaz – it was a pleasure connecting with you and I so look forward to seeing more of your amazing work. South Africa has so many talented artists and I am happy to touch base with some of them. Good luck with your exhibition, it sounds very interesting and I am also sure it will be thought provoking!
To see more of Chaz Williams' fine artworks follow him here:
Website: www.chazart.co.za
Instagram: @iamchaz13
---