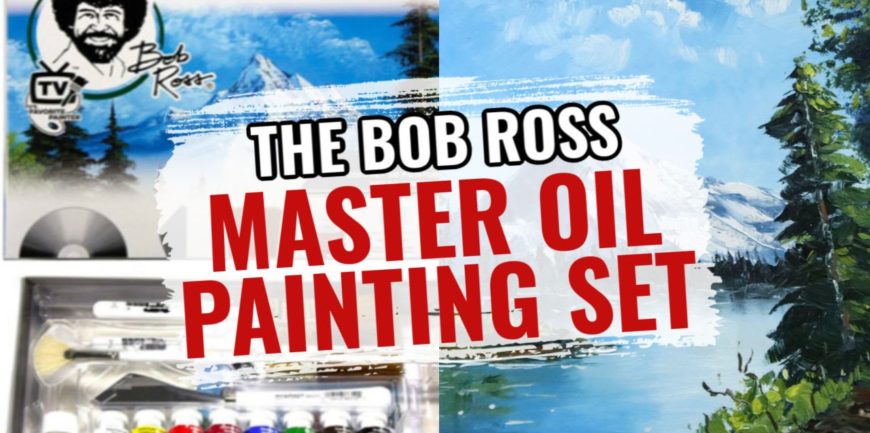 Become a Bob Ross Painting Master
By ArtSavingsClub - February 26, 2020
If you are reading this you probably know him already. The artist with the soothing voice and impressive afro hairstyle that paints happy landscapes. The world's most recognised artist on television. Loved by millions of fans for his engaging painting lessons. Yes, Bob Ross is the legend who continues to inspire artists the world over with his series The Joy of Painting. Now South African fans can paint along with Bob Ross using his official painting materials.
My Experience Painting Like Bob Ross
I excitedly opened up the box of art supplies from Art Savings Club. This was the actual Bob Ross Master Oil Painting Set. As you will see from the video the set contains all of the essential Bob Ross equipment, a set of paints and an instructional DVD.
Now I could have a go at painting my first Bob Ross painting using the correct equipment. I have watched many episodes of his painting series, but I had never tried to paint in Bob Ross's style. A big issue for me was that his method relies on materials that I did not have. The special brushes, the unique painting knife, the liquid white and so on. What was the point of lamely painting with the regular kit? It had to be the right stuff. Now I had it and it was time to paint.
The Canvas and First Steps
As you may know, Bob Ross attached a lot of importance to using liquid white on the canvas. This makes the canvas slightly wet. The idea is that your paint will adhere easier to the canvas. Most importantly you will be able to blend the paint to get those soft paint effects in the sky and water. Almost every Bob Ross painting relies on this technique.
I found that the liquid white is simple to apply, but be careful. You only need a very thin layer otherwise the surface becomes too slick. If you do put on too much, get a lint-free cloth and wipe the surface to remove excess liquid white.
Then onto blending some blue sky and water. Notice that the blue is a powerful Phthalo Blue. Bob also uses Alizarin Crimson so your paintings will be colourful no matter what. I must say the liquid white and pthalo blue worked nicely together. For best results use a clean dry brush to help blend the paint.
Big Brushes
The Master Paint Set comes with two essential brushes. The one and two-inch landscape brushes. You will need to wash these brushes in odourless turps when changing colour, so be sure to dry off the brushes well. The famous brush slapping method is effective, but use it at your own risk!
I do hope that Bob Ross will inspire South African artists to use more big brushes. Something I support wholeheartedly for loose and expressive painting. As you will see the famous fan brush is also supplied. Go on and create many proud and happy evergreen trees with this brush.
Unique Paints
Although the paint colours are not unusual the formulation of the Titanium White is slightly different. It is thicker from your typical white paint. Bob did specify this formulation to make it easier to create the broken white scumbled look of his snowy mountains. This thicker white paint is noticeable, but do not panic. Try it out with the painting knife and create those beautiful mountains.
You can add a touch of liquid white to the colours should you want a softer paint, but use it sparingly. I did find that the small palette of colours suited me as I mix most of my colours from the primaries. Without realising it many beginners are learning the essential skill of colour mixing too.
Excellent DVD Instruction
The demonstration painting that I created was based on the one Bob Ross shows in his DVD. This does help as it is a detailed process demonstrated in the DVD. So watch this before starting your painting.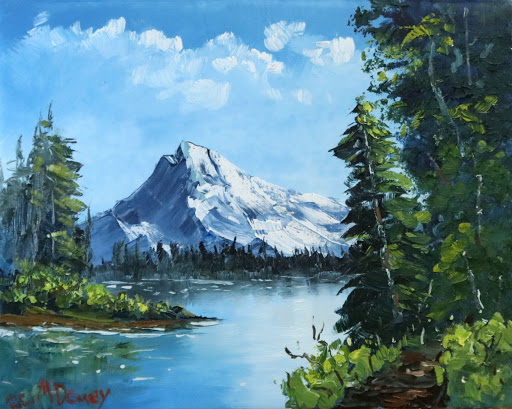 Does the Master Painting Set Deliver?
This is an important issue. Everyone who invests in this set must be able to create a painting that looks like a Bob Ross painting. The experience must be true to the ethos of Bob Ross's television show. I can answer the question with a happy yes! I used the paints and tools as demonstrated and the result, I believe, is true to what Bob is teaching. You can judge that for yourself in the video.
As Bob says you need to practice to become fully comfortable with his method. It was a real challenge, but a lot of fun too. It was a relaxing experience yet the painting is a proper oil painting with lots of juicy oil paint. Exactly what I like. I think there are many important painting lessons to be learned with this approach. If you are thinking about oil painting for the first time then try this paint set.
Experienced artists will also pick up a few tips and tricks to incorporate into their styles. Plus the tools supplied are excellent quality. Have some fun with the Bob Ross Master Paint Set. Happy painting!
Free Painting Course
If you are looking for more resources to help with your painting try out my Free video-based painting course. More details here.
---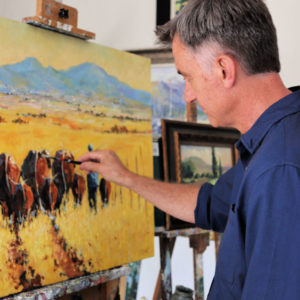 The Paint Pro – Malcolm Dewey
Malcolm Dewey is a full-time artist living in South Africa. Together with a loose brushwork style Malcolm's paintings are filled with light, colour and movement.
Malcolm's favourite painting mediums are oils, acrylics and watercolour. He aims to describe his painting with an economy of shape, but without compromising on paint and generous brushwork.
Instagram: @malcolmdeweyfineart

Facebook: Malcolm Dewey Fine Art