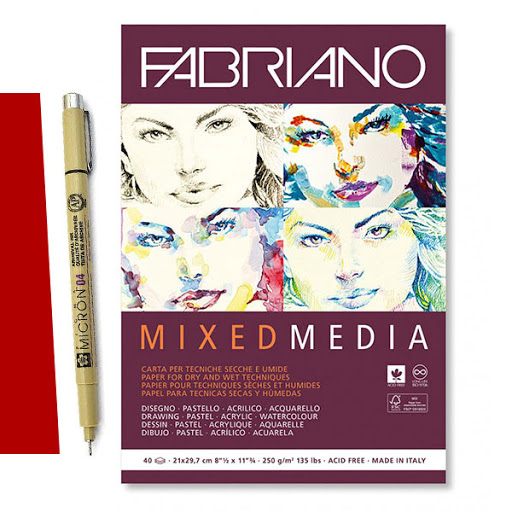 How Mixed Media Friendly is Fabriano's Mixed Media Pad?
By ArtSavingsClub - October 21, 2019
Mixed media paper sounds vague to me. What is it really for? In this review, I got to find out just how versatile mixed media paper pads can be. In this case, the block of paper coming from Fabriano, a company that is well known for making quality art paper. Let's take a closer look.
Big Block Means More Value
The first thing I noticed was that the block of paper was big and felt substantial. I like that this product gives the impression of being around my studio for a while. Not running out when I need it. With 40 sheets of 250g textured acid-free paper, this spells out good value for money. If Vin Diesel was into drawing he would want this big block!
Quality of Paper?
So far so good, but what about the quality of the paper? Fabriano products are made in Italy and have been around for many years. That already gives me comfort. The paper itself feels thick and has a light texture. Like cold-pressed watercolour paper, but not too rough. You can easily draw with a pencil or marker without leaving annoying spaces in your lines.
The slight tooth also means there is some bite for pastels so that is good to know. Does the paper buckle when wet? Good question from the watercolour artists. As it happens I tried some watercolour without taping the paper down. I did notice a little buckle but was expecting more. For 250g paper to buckle so little is impressive. Ideally, of course, you will tape your paper down for watercolour. This will give you nicely stretched paper for a lot of wet media.
The versatility of the Paper?
The cover says the paper is suitable for drawing, pastels, acrylics and watercolour. I can add gouache to that list too. In my little test, I divided a sheet of paper into four sections and commenced working with various media.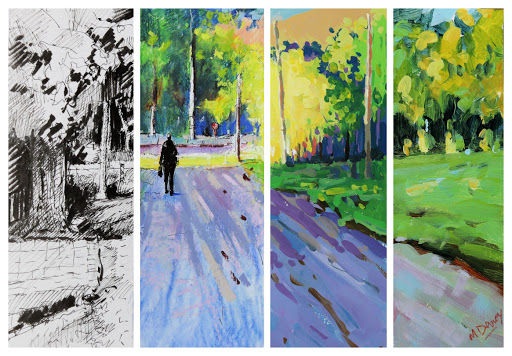 Panel one was waterproof ink pen. No problems there. No running, clumping or uneven surface. Then in the next panel, I used watercolour pencils before adding water to dissolve the pencil. The paper worked fine and I can easily see that you can complete excellent watercolour paintings with this paper.
The next panel was gouache. Looks superb and this is now my go-to paper for gouache painting. In the final panel, I used acrylics. Also with good results. Finally, I went over parts of the now dry watercolour with pastels to enhance the colours. There was sufficient tooth for a layer of pastels too. You can see the results in the final image above.
Conclusion
A high-quality paper pad for mixed media at a very reasonable price. All-round this is excellent value for every artist of any age. To answer the question in the title – very friendly indeed!
---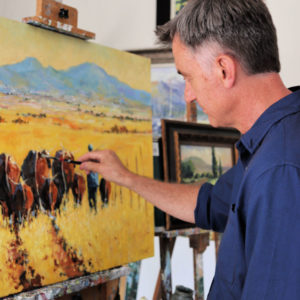 The Paint Pro – Malcolm Dewey
Malcolm Dewey is a full-time artist living in South Africa. Together with a loose brushwork style Malcolm's paintings are filled with light, colour and movement.
Malcolm's favourite painting mediums are oils, acrylics and watercolour. He aims to describe his painting with an economy of shape, but without compromising on paint and generous brushwork.
Instagram: @malcolmdeweyfineart

Facebook: Malcolm Dewey Fine Art