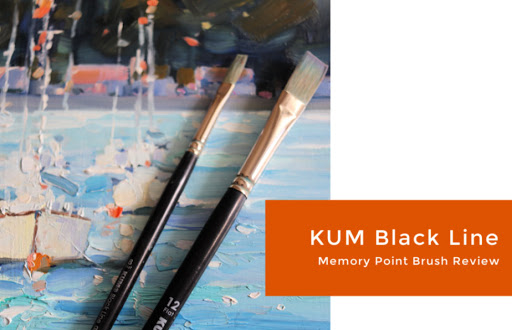 I Test the New KUM Black Line Memory Point Brushes
By ArtSavingsClub - September 26, 2019
The debate about whether brush quality makes a difference to your painting continues. Something along the lines of the amateur blames his tools if the work is not good enough. Well I can answer that argument right here and now:
Do Premium Oil Painting Brushes Make a Difference?
Yes, the quality of a brush does make a big difference. I still remember the excitement I felt when using a premium bristle brush instead of the cheap import variety. The feel of the brush, the spring in the bristles and the ability to create beautiful brush strokes is enhanced by premium quality brushes. They also last longer. The end.
New Brush on the Palette
Sadly South African artists have very few excellent oil painting brushes available. Especially thicker bristle brushes for impressionist and impasto techniques. It got to the point where I used to import my own bristle brushes from the UK. Not anymore. ArtSavingsClub has a growing range of quality bristle brushes for oil painters. In this article, I am reporting on their newest arrival: The KUM Black Line memory point brush.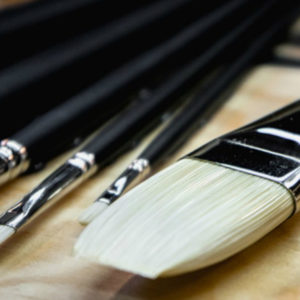 What Is So Special?
First off the KUM brush gets the basics correct. Long handle and long bristles on their flat brushes. These are proper long flats and that is important. Long bristles have room to wear down over time and that means good value. Then there is the extra carrying capacity for lots of paint and finally the all-important spring so that the bristles resume its shape. Finally the brush also looks good – like it means business and that gives one confidence.
Synthetic Over Natural?
I am a fan of natural bristles myself. What is the big deal anyway? Many economy brands use synthetic bristles as they are cheap. Sadly most of these brushes are not going to last a week with oil painters. The synthetic bristles split and lose shape after a few washes in turps. The synthetic bristles are also typically soft and cannot scoop up lots of paint. Ideally, synthetic brushes like this should be used for acrylics only.
This KUM brush uses synthetic bristles so I was nervous about it. I love the strength of natural bristles combined with the texture each brush mark makes. Would the KUM brush disappoint?
Tough Testing Commences
Instead of doing a quick review I decided to try out the brush over a month of intensive use. In fact, the picture above was taken at the end of the test period. I must mention that I paint fast and give my brushes a hard time. There are scrubbing, impasto and lots of push and pull going on. Then at the end of the day, the brushes get a good wash off in turps. This is still the best way to clean oil brushes in my opinion. The result?
As you can see the brushes have kept their shape very well. There is still spring to the bristles and no splitting. This gives credit to the memory point technology KUM brushes use. No other synthetic brush has kept going this long and I have tried some expensive ones too.
Impasto Contender?
Can the brush carry the load for thick impasto strokes? In this regard, the bristles are softer than traditional Chungking bristle. So the answer is not quite. Having said that, the bristles are not bad either. They get a pass mark which is fair considering that they are a special hollow-core bristle. Overall you can still get a painterly effect especially if your paint is nice and buttery as it should be.
Blissful Portraits and Fine Brushmarks
These KUM brushes excel with finer brushwork and can produce lovely blended and soft-edged brushwork. A rare quality for oil bristle brushes. The brush edges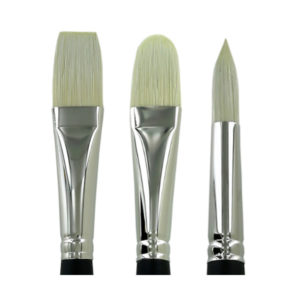 retain a crisp shape, which means accurate control and drawing with the brush. I would say this is a rare combination for a brush that can work for almost any style of painting or subject.
The Verdict
A strong performance all round makes the KUM Black Line Memory Point brushes the leader in versatility in my view. Yes, these brushes are premium quality but promise to last a long time. You should consider them an investment in pleasurable painting. While not perfect in every category they will deliver on all subjects you set your mind on. There is not much more you can ask for.
Note – the brush sizes are a little confusing. For instance, the larger brushes in the above photo is a size 12. Typically this brush would be a size 6 or 8. Therefore if you want a large brush you will be looking at anything above size 12. The brushes come in three shapes – round, flat and cats tongue (filbert).
---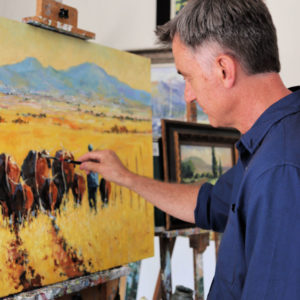 The Paint Pro – Malcolm Dewey
Malcolm Dewey is a full-time artist living in South Africa. Together with a loose brushwork style Malcolm's paintings are filled with light, colour and movement.
Malcolm's favourite painting mediums are oils, acrylics and watercolour. He aims to describe his painting with an economy of shape, but without compromising on paint and generous brushwork.
Instagram: @malcolmdeweyfineart

Facebook: Malcolm Dewey Fine Art